Only 70 minutes from Tokyo by Shinkansen, TAKAHAN Ryokan is a traditional style inn and onsen located in Echigo-Yuzawa, Japan's most snowy region.
Known as one of the oldest hot-spring hotels in Japan, TAKAHAN has a history dating back 800 years when the founder, Hanroku Takahashi,
discovered hot springs here. Since then, the inn has been passed down in the Takahashi Family for generations.
In winter, Yuzawa is very popular among skiers and snowboarders, but visitors can enjoy beautiful pastoral scenery throughout the year.
Also blessed with an abundant snowmelt, Yuzawa's regional cuisine is delicious. Come to Yuzawa and experience the best nature has to offer!

The room and service fee will be charged after your stay.
When you click on "To the Reservation Page", the "Credit Card Information Form" will open first.
This form is used in case of cancellation so please read our cancellation policy carefully before filling out and sending the form.
When you are finished, please proceed to the "Reservation Page".
Guidance of - Onsen / Cuisine / Guest rooms / Building Facilities / Access Information

Since it was discovered 800 years ago, the hot springs here have naturally gushed out 400 liters of water per minute at a temperature of about 43.4℃.
There are a number of 'onsen' facilities in Japan, but most of them circulate or re-use the hot spring water and, therefore, can not be considered true 'onsen'.
The 'onsen' at TAKAHAN uses natural hot spring water that continuously gushes into the bathtub. They do not sterilize, circulate or filter the hot spring water at all. The bath water is kept fresh and clean as all the water is replaced every three hours. This system is rare as it can only be utilized when the volume and temperature of the water match.]
The spring quality is highly favored as the mineral deposits condition the skin, almost as if you were bathing in lotion. In fact, this water is used in skin lotion which can be purchased here. You may also drink this water. However, it does have a slight sulfurous odor. Additionally, the water is not too hot and the lukewarm temperature means visitors can enjoy leisurely bathing.
Public Bath/
Men's Large Room (Fresh hot spring water, sauna, water bath)
Women's Large Bath Room and Outdoor Bath (Fresh hot spring water, sauna)
*The Outdoor Bath is only available in the Women's Bathroom
Spring quality /simple sulfur spring, alkaline P.H.9.6
Effective for / chronic dermatological disease, chronic gynecological disease, cuts and diabetes
Day Use Bath / 13:00 ~ 17:00 / 1,000 JPY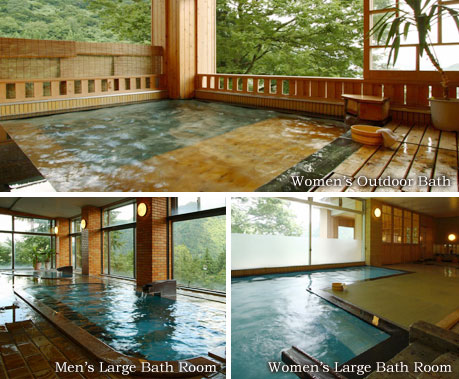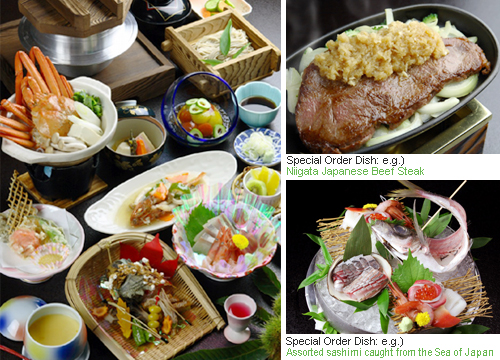 Niigata is famous for the richness of its seasonal ingredients found in the mountains and ocean. Guests can enjoy fresh seafood from local fishing ports, as well as a palate from the local mountains.

Reputed to be Japan's best brand of rice, 'Koshihikari' is produced here in the Yuzawa area. People also say that 'Nihonshu' (Japanese sake) is synonymous with Niigata prefecture. There are many famous 'sake' breweries in Niigata and our guests can sample a variety of those premium brands here.

Our special seasonal dishes are also highly recommended. Please book these special orders in advance.

* These images are only examples of our dishes.
* Our menu varies with the seasons.
* If you have a special preference or food allergy, please let us know by filling in the 'Special Instructions' section on the reservation form.
* If you would like breakfast, please let us know when booking your room or during check-in.

Located on the hill in Yuzawa Town, TAKAHAN Ryokan features great views of the mountains and streets. We are proud of the panoramic views guests can enjoy from the wide open windows in our guest rooms.
We offer traditional Japanese style guest rooms so we ask that you take off your shoes when entering. After you have settled in your room, please change into the traditional loungewear provided, called 'Yukata', and relax on the 'tatami' mat.

* These images are an example.
* Room interiors vary.
Room Amenities
air conditioner, refrigerator, safe, TV, adult and children's yukata, wash stand, bath towel, face towel, shampoo, conditioner, body soap, hair brush, shower cap, razor, hair dryer, toothbrush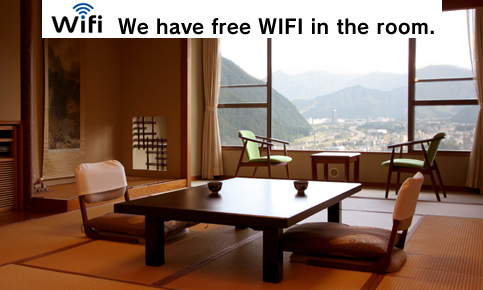 6 story reinforced concrete building
Escalators and Elevators

Guest Rooms/ Each of the 36 rooms are equipped with air conditioning (30 rooms are furnished with a shower and toilet)
Bath Rooms/ 1 Men's Large Bath (equipped with sauna)/ 1 Women's Large Bath (equipped with sauna and outdoor bath)
Display/ "Kasumi-no-ma" Room where the great novel "Yukiguni" were written/ Documents Display Room/ Theatre Room
Halls/ Western Style Banquet Room 'Kinjo' (capacity: 200 people)/ Japanese style Banquet Room 'Hakkai-no-ma'/ 3 medium size banquet rooms/ 5 small banquet rooms/ Multipurpose Hall 'Takatsukura' (capacity: 10-15 seats)
Others/
Traditional Japanese Restaurant 'Matsuzaka'
Cafe 'Furo Cafe'
Karaoke Room
After-Bath Lounge, Massage Chair Corner
Newsstand
Coin-Operated Laundry
Vending Machines
Parking Lot (up to 50 cars)
Free Internet Section
(featuring wireless LAN and two personal computers)
The famous Japanese novel, "Yukiguni' (Snow Country), written by Yasunari Kawabata in the early 20th century, won the Nobel Prize for Literature and was written in this very ryokan. There are displays in the building, including
'Kasumi-no-ma', the room where Kawabata stayed and wrote 'Yukiguni'
as well as other related documents.


'Kasumi-no-ma'

Room featuring documents
related to the novel, "Yukiguni"

Hours:
AM 9:00 ~ PM 5:00
Admission Fee:
adults / 500 JPY
(Free for our guests)


"By the Train"

From Tokyo / [Tokyo st.] - <Joetsu shinkansen Line> - [Echigoyuzawa st.] (about 75min)

From Niigata / [Niigata st.] - <Joetsu shinkansen Line> - [Echigoyuzawa st.] (about 50min)

* About 1.5 km from the Echigo-Yuzawa Station: Approx. 5 mins. by car, 25 mins. on foot


"By the Car"

From Tokyo / [Nerima I.C] - <Kanetsu Highway> - [Yuzawa I.C] (about 1h50min)

From Niigata / [Niigata Nishi I.C] - <Kanetsu Highway> - [Yuzawa I.C] (about 1h20min)

* About 3.5 km from the Yuzawa I.C. highway exit: approx. 10 mins. by car, 50 mins. on foot

* A free shuttle bus is available and leaves from the west exit of Echigo-Yuzawa Station between 8:00 and 18:00. Please call us when you arrive at the station.

* A hotel bus going to the 'Gala Yuzawa' and 'Yuzawa-kogen' ski resorts is also available.To access other ski resorts, use the free shuttle bus to the station and then transfer to the free shuttle bus provided by the ski resort.

* Transportation service to the station is available as needed between 8:00 and 18:00 during your stay. Please use this service to go shopping in town. During the winter season, baggage may be checked from 8:00. Additionally, bath services are free until 18:00 on the day of check-out.
Various Links
Sightseeing of Japan

Sightseeing of Niigata

Sightseeing of Yuzawa Town

About Japanese snow
Recommendation Links
Tokyo international airport

Train

Weather