English
Natural Hot Spring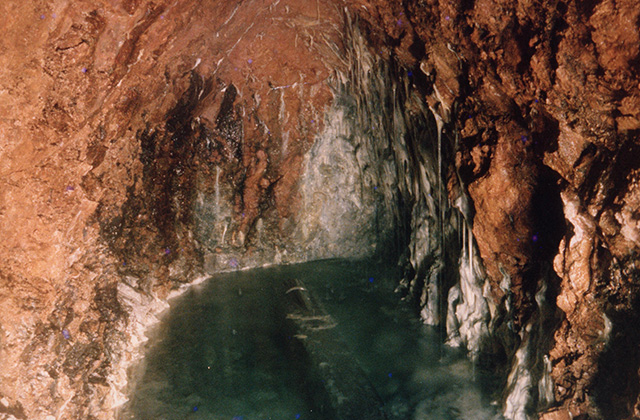 We have been looking after this onsen for the last 900 years.
Scenery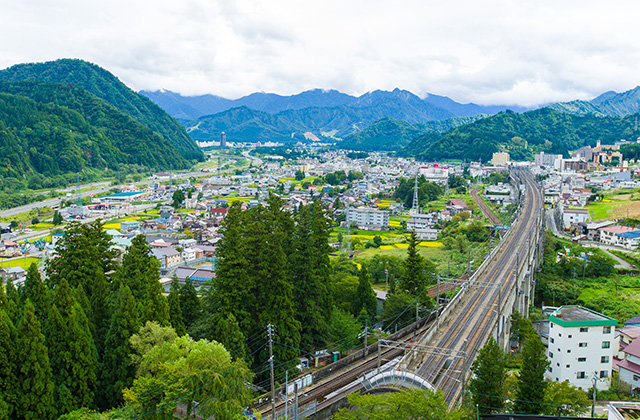 Surrounded by the beautiful mountains of Snow Country
A relaxing stay in this historic hotel that has been looking after guests for 900 years
Culture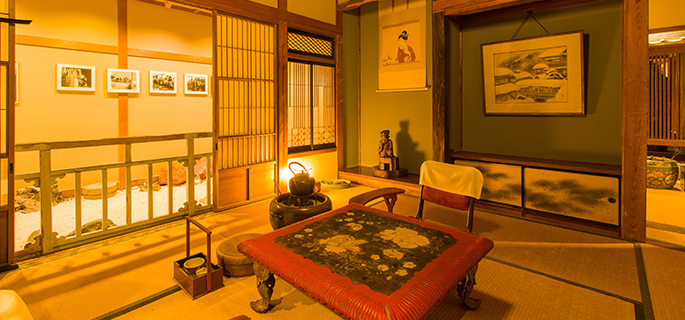 Kasumi-no-ma - the room where the Snow Country novel was written.
Traditional Japanese hospitality with a smile.
We look forward to welcoming you to Takahan.
Experience the warm hospitality on offer at this family-operated, historic Snow Country hotel.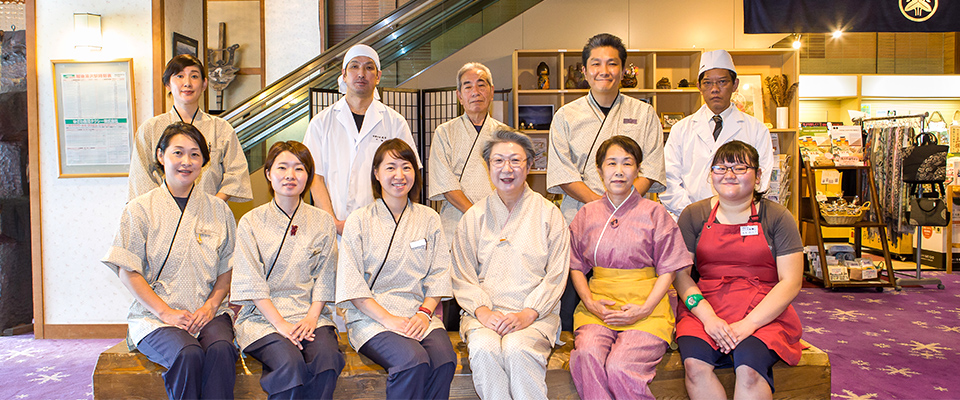 Over 900 years ago an ancestor of the family who own and operate this ryokan was heading down to the Kanto area when he became ill and was forced to stay in the middle of nowhere. By chance he discovered a hot spring in the mountains, and that was to become the start of Yuzawa itself.
That onsen which feeds the baths in the hotel is a source of pride, and very highly regarded. It is 100% natural, and comes straight from the source behind the hotel.
Highlights at Takahan, the Snow Country hotel.
Onsen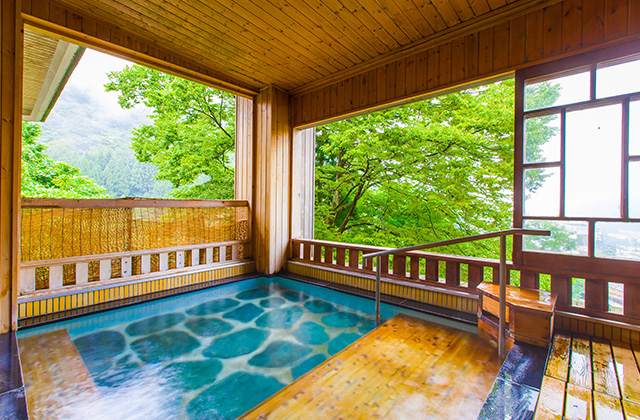 A fantastic natural onsen at the perfect 43 degrees.
The very source of the natural hot spring that was discovered by one of the ancestors of Takahan's owners is just behind the hotel. It is still pumping out hot spring water heated by the earth as it did when he discovered it 900 years ago. The water that comes out now would have been rain and snowmelt from a long time ago.

The baths at Takahan are a rare category of onsen that are filled directly from the spring source. Other onsen might be reheated, pumped from tanks, or have certain things added. The onsen at Takahan is special in that it is completely natural. The volume of water flowing in is enough to fill the bath in about 3 hours so the water is constantly being refreshed.
The quality of the water is also highly regarded, and is different from the onsen water in other parts of Yuzawa. It is well-known for its silky feel. It is also supposed to be effective against skin problems, female disorders, cuts, and diabetes.
There is also a cold water bath in the male onsen fed by a mountain spring which is the perfect place to cool off after using the sauna. The female onsen also has a sauna, as well as an outside bath.
To make sure it is in perfect condition for bathing the hot spring baths are closed everyday for 3 hours of cleaning from 0930.
Spring quality

simple sulfur spring, alkaline P.H.9.6
Effective for

chronic dermatological disease, chronic gynecological disease, cuts and diabetes
Culture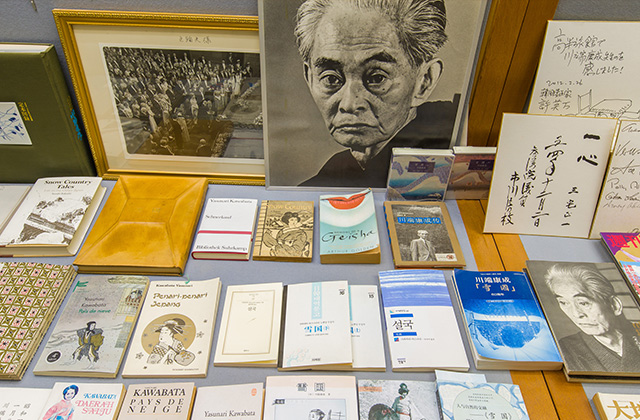 This accommodation has been a favorite of Yasunari Kawabata as well as other famous people.
The world of Snow Country is centred around Takahan, as the author of the famous Yukiguni (Snow Country) novel stayed in the Kasumi-no-ma room at Takahan while he was writing the book from late 1934. "The train emerged from the long border tunnel into the snow country." is the famous first line of the novel and it is an experience many winter visitors relive to this day. The tragic love story between Shimamura and the geisha, Komako, unfold around the Takahan of the day.
Inside Takahan there is a small museum to Mr. Kawabata and the actual Kasumi-no-ma room where he worked. There are also historical artifacts from the local region. The museum at Takahan is open to the public from 09:00 to 17:00 at a cost of 500 yen (and is free to house guests.)
Every night at 20:00 the black and white movie of Snow Country is shown in the theatre next to the library. (In Japanese)
Cuisine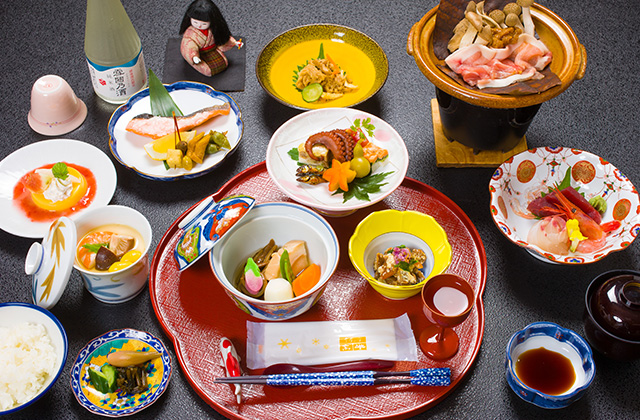 Takahan has been awarded 3 Stars from the A-kyu Gourmet Project that assesses traditional, additive-free, locally-sourced cuisine.
The rice served at Takahan is the famous locally produced koshihikari which is cooked in the traditional kama pot for sensational results. One of the secrets to its flavor is the mineral rich water which is in abundance in the area due to the snow melt. The big difference between day and night temperatures is also said to improve the quality. For a real treat come in autumn to taste the freshly harvested shin-mai rice.
The perfect accompaniment to this amazing rice is the bounty of the local area: river fish raised in the pure waters of the local rivers around Hakkai-san, fresh seafood from the nearby Sea of Japan, and locally sourced vegetables bought directly from the producer. Fresh, seasonal, and beautifully presented.
Dinner is served from 18:00. Breakfast is served from 07:30
Regarding allergies and special dietary requirements.
For those with allergies or special dietary requirement, please let us know at least 3 days before your stay, and we will try to accommodate your requests. For certain items, such as shellfish, we may be able to substitute dishes, but for ingredients like wheat or soy that are used in seasonings/etc, we may not be able to completely eliminate them. Please consult with us by phone at least 3 days prior to your arrival.
We charge an additional fee of 3,240 yen for special menus that cater to allergy/dietary requirements.
Each person has different levels of sensitivity. We can try to remove an ingredient form the menu but we can't guarantee that we can remove all trace elements from cooking utensils/etc.
Due to restrictions on running a ryokan it is difficult for us to comply to all requests, so in case of severe allergies, please be sure to consult with your doctor.
Rooms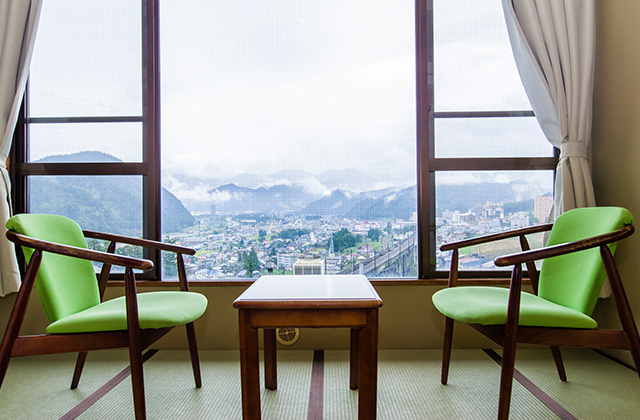 There are a variety of room sizes at Takahan with many rooms having stunning views down over the town of Yuzawa below.
Wi-Fi is available in all the rooms.
All rooms have toilets, though most customers prefer to use the onsen baths rather than the ensuite bathrooms.
The amenity set includes yukata, face towel, bath towel, hairbrush, shower cap, shampoo, conditioner, razor, hair tie, and dryer.
Facilities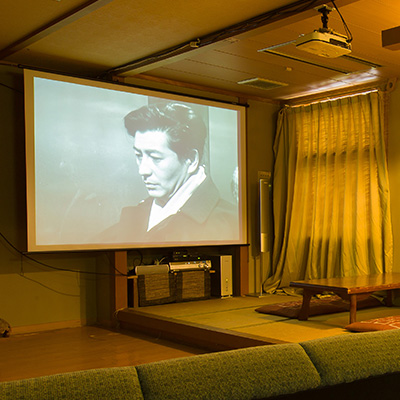 Takahan is a classic Japanese style hotel. It has a library, theatre, table tennis corner, cafe, and small shop. There is also a Thai-style massage and beauty salon. Wi-Fi is available throughout Takahan. There is a coin laundry, shuttle service to and from the station, a wheelchair for use inside the hotel, and some electric assist bicycles that can be used outside of winter.
| | |
| --- | --- |
| Check in | 15:00 - 18:00 |
| Check out | 10:00 |
| Accepted Credit Cards | JCB, Visa, Mastercard, Amex, UC, DC, Nicos, Diners, UFJ, Saison, Debit cards, Ginren |
| Also available | Room service, Cleaning, Massage, Shogi, Go, Mah Jong, Gymnasium, Sports Ground, Tennis, Golf, Fishing, Soba Making |
| Rooms | 33 rooms, sleeping 150 pax. All rooms with heating/AC, and Wi-Fi. East Wing 20 rooms, South Wing 13 rooms |
| Baths | Male onsen bath with sauna / Female onsen bath with outside rotenburo and sauna |
| Function Room | Large convention hall for 200 pax (150 pax if school style, 350 pax if theatre style) |
| Displays | Kasumi-no-ma Room, Literary Museum, Theatre |
| Small Banquet Rooms | 4 rooms |
| Parking | 50 spaces |
| Other facilities | Small Dining Room, Cafe, Karaoke Room, Rest Room, Massage Chairs, Kiosk, Coin Laundry, Vending Machines |
Access
Takahan is very easily accessed.
It is 6 minutes from Yuzawa Interchange
It is 5 minutes from Echigo-Yuzawa Station, and a free pick up service is available.
By car
From Tokyo / Nerima I.C (Kanetsu Expressway)→  Yuzawa I.C 【About 1 hour 50 mins】
From Niigata / Niigata Nishi I.C (Kanetsu Expressway)→ Yuzawa I.C 【About 1 hour 20 mins】
From Nagano / Nagano I.C(Joshinetsu Expressway)→ Yuzawa I.C【About 2 hours 2 mins】
From Kanazawa / Kanazawa Higashi IC (Hokuriku Expressway )→ Yuzawa I.C【About 4 hours】
Takahan is about 2 minutes from GALA Yuzawa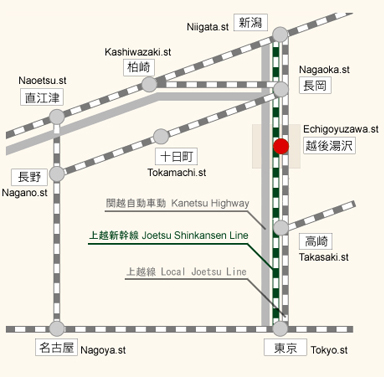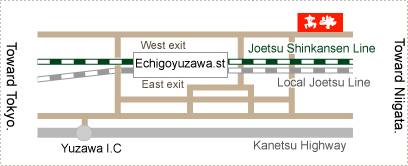 By Train
Tokyo Station(Joetsu Shinkansen)→ Echigo-Yuzawa Station 【About 1 hour 19 mins】
Niigata Station(Joetsu Shinkansen)→ Echigo-Yuzawa Station 【About 48 mins】
Kanazawa Station(Shinkansen Hakutaka 570)→ Takasaki Station(Joetsu Shinkansen)→Echigo-Yuzawa Station 【About 2 hours 44 minutes】
Shin Osaka Station(Tokaido Shinkansen)→Tokyo Station(Joetsu Shinkansen)→ Echigo-Yuzawa Station 【About 4 hours 15 mins】
Shuttle Service
If you are coming by train Takahan can pick you up from Echigo-Yuzawa Station. Please call us when you have arrived.
Pick up point: Just outside the West Exit of Echigo-Yuzawa Station(Tel: 025-784-3333)
It is not possible to pre-book the shuttle so please call on arrival.